CPM waiting for the slighest oppurtunity to unleash fascist terror on
organisations protesting against the land acquisition in singur.
The Calcutta gestapo police is on high alert and the minute they
get the green signal they plan to put their elaborate plan into action.

Cracks in Trinamool over Singur plan of action,
Sumanta Ray Chaudhuri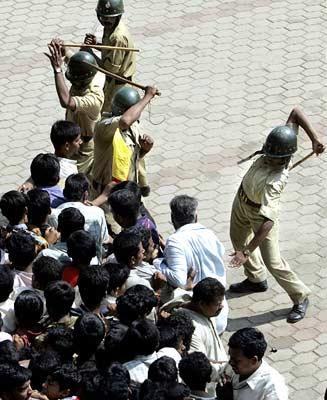 KOLKATA: The Singur Krishijami Raksha Committee (Save Singur Farmland Committee), a joint movement forum of the Trinamool Congress, Naxals and Suci, is gradually showing signs of disintegration.
The split comes after a confusion in the possible line of attack.While a section of the committee is in favour of solving the problem through dialogues, another group led by Naxalites and Maoists, wants direct attack against the state administration for lack of cooperation.
Though Trinamool Congress leader Mamata Banerjee's hunger strike doesn't seem to ruffle any feather in the state administration, Mamata does not seem to be in a mood to budge from her stand. She has already thwarted union broadcasting minister, Priya Ranjan Dasmunshi's plea, who met her on Sunday on behalf of of Prime Minister, Manmohan Singh.
"I will not call of my fast, unless the state government gives back land to unwilling farmers. Now, If anything happens to me, the state government will be responsible for it," Mamata said.
Having waited for so many days, the Naxalites and Maoists are now looking to take up extreme measures like mass disobedience to stall the project and bring justice to the Singur farmers. The discontent among a section of party workers was evident when Mamata decided to call off the 48-hour West Bengal bandh on December 21 and 22.
The Naxalites, in the movement, strongly denounced Mamata's decision and their leader, Dipankar Bhattacharjee, even said that calling off the strike would be demoralising the agitators and sending a wrong signal to farmers at Singur.

While it is still not clear when Mamta would call off her hunger strike, the Naxalites are gearing up to take control over the movement at least in Singur.


According to a state government intelligence report, hardly any Trinamool supporters are spearheading the agitation there and Naxalite outsiders, which include students of Calcutta and Jadavpur University, are frequenting Singur on a daily basis. Even the Suci is in favour of the extremist movement planned by the Naxalites.
According to a senior political analyst, the violence would give chief minister Budhadeb Bhattacharjee a free hand to curb the Singur issue and the state government can then nail it completely.

Link